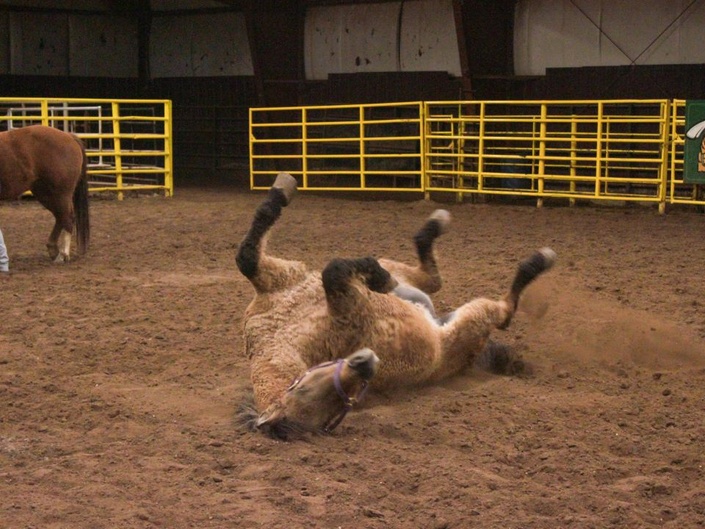 The UnBound Horse - Intro Course
Detect and Resolve Constriction In the Horse - Fun & Informative Basic Course in Equine Bodywork
Enroll in Course
The UnBound Horse will give you a quality, very well-rounded and fun basis to equine massage and bodywork. If you just want to learn more to help your horses, add to your current equine based career, or get a nice introduction for a career in Equine Bodywork - The UnBound Horse is where to begin.

You will gain 80 learning and experiential hours with a very solid basic understanding of therapeutic bodywork principles, and anatomy relevant to this course (axial skeleton, scapula, femur and 21 muscles). You will also experience a great introduction to intuitive feel and energetic patterns within ourselves and our horses. The program is interwoven with stories from the field, fun practice sessions that often bring ah-ha moments, and will conclude with you performing a full equine bodywork session on a horse.
We will explore the beginning steps of assessing constriction in the horse and how to resolve. You will learn some basic saddle fit problems - how they show up and what to do about them and examine 6 performance problems commonly created by constricted patterns; Can't bend or turn * Can't Collect * Bucking * Girthy * Arena or performance sour * Or just plain grumpy!
By the end of this program, you will be able to provide a very quality full bodywork session for your horse.
The UnBound Horse - Module 1 can be taken as an individual course OR IS INCLUDED in the following packages: Transcendent Horse 5-module Series, or The Certified Practitioner School in Equine Bodywork.
"I highly recommend this course. It has taught me so much in such little time. It also allows me to work at my own pace. I went back through the module several times in different sections to review things that I felt I needed more work on. I really appreciate the knowledge that is being shared here. I cannot say enough great things about the module and the ones teaching it!!!!!! "
-Courtni
*Module 1 receives 80 learning hours and is self paced. There is no expiration.
The UnBound Horse consists of 5 Sections:
The Nitty Gritty of Technique & Theory

The Nitty Gritty of Equine Body (as pertains to this course)

DETECT - The Assessment

RESOLVE - The Work

6 Performance problems commonly caused by CONSTRICTED PATTERNS
Each Section consists of 6-8 lectures plus a review section
Lectures are generally 30 minutes or less
Sections will include an assignment or practice form to be completed on your time frame
(Certified Practitioner students receive one private online coaching session per module)

Instructors are available via email, phone or Facebook group as needed.

Most Sections will complete with a quiz (The certified student has 5 attempts to receive a score of 75%)

A CERTIFICATE OF COMPLETION is awarded at the end of the course


Congratulations!!!
What People are Saying about their experiences with the UnBound Horse:
"I thoroughly enjoyed Module #1! This was a really nice blend of technical info and the creative "art" of performing equine bodywork. The Module utilized great learning methods (I won't spoil the fun by explaining) that helped make learning the muscles and skeletal anatomy and physiology easy. I also loved the personal stories shared by Kim. I'm excited to continue on with the next Module!"
Tracy- South Dakota
"I just completed Module #1 - The UnBound Horse bodywork course. I'm a life-long horse owner and was looking for a course that would help me do my own work on my horses. I've had bodywork done on my horses by professionals, but have always wanted to see if I could do it myself. I have to say that this Module (The Unbound Horse - intro course) was brilliant! I now feel comfortable working on my own horses—I have actually been able to feel muscle issues and take care of them! And, not only did this intro course delve into massage technique, it went in depth into other types of bodywork. Now I can do myofascial release, energy holds, leg stretches, plus massage work. Wow!
Tina - New Mexico
Course Curriculum
THE NITTY GRITTY of Techniques & Theory of Equine Bodywork
Available in days
days after you enroll
Your Instructor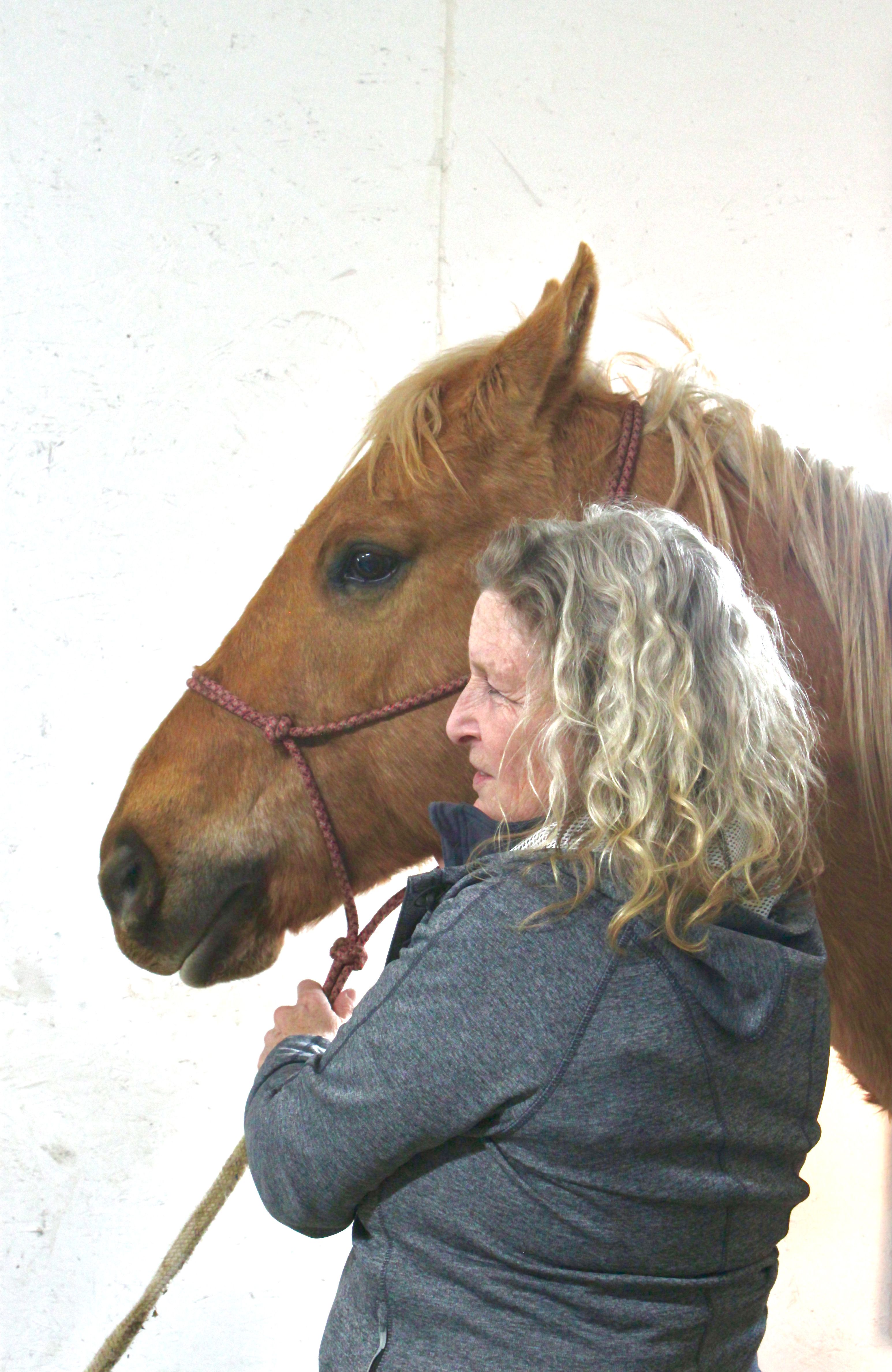 KIM KIZZIER SHERRODD, LMT, NBCAAM Certified Equine Massage Therapist CREATOR & DIRECTOR
I read once that if you want to write a book, you should write the book you want to read. Taking this advice, I have spent the past ten years creating the course(s) I would want to take while keeping within rigorous standards. All this information and training was not available in any one program when I first imagined such a gratifying career and there were few coaches to guide me.
When I am performing bodywork on horses, there is SO much more going on with them than I could possibly put into categories, theories, or techniques. Although I always feel an awesome surge of validation when a horse awards me with what we call a "release" (yawning, stretching, licking and chewing), I somehow know that isn't the full story. When I am deeply tuned in to the energy, I almost sense the horse will offer the "release" just to help me through the energetic moment; as if to encourage me along. So, I went deeper, learning from every avenue I could – especially the horse. In developing this program, my goal is to help students learn how to "feel", gain empathy, and mostly to believe in themselves. I want to bring out that deep childlike depth and conviction which, to me feels like the same space that horses hold (and they are just waiting for us to catch up). This space has no rules or validation because it is nothing more than the present moment being shared between two souls. This is where magic happens.
The scientific approach to bodywork often felt cold and emotionally void to me; while the excited, "look she's yawning" as the end answer to what is going on felt very shallow. I wanted to offer a deeply rich and intuitive experience while still teaching the scientific basics of anatomy, physiology, kinesiology and pathology.
For a long time, I was afraid people would take what I have to offer as too "Woo-Woo". Fortunately, my faith and an incredible business coach prevailed and The School of Applied Integrative Therapy ~ Equine essentially birthed itself. This program is not only nationally and Internationally accredited, but weaves itself around stories from my own truly incredible journey with learning, growing, and intimately experiencing bodywork, natural and ancient healing practices, horses, and spiritual and personal development. Students not only gain knowledge, but also inner growth, depth of connection, and hopefully, a renewed belief in themselves and the world of equine. I would love to share this knowledge and deep experience with anyone wishing for such a valued and rewarding career or addition to horsemanship.
Kim is a licensed human and nationally certified equine massage & bodywork therapist. She has trained and worked in the veterinary industry and has decades of experience with all animals and most especially horses. When not teaching or doing bodywork, she loves to spend her time in nature and continuing studies in the healing arts. Kim makes her home with her husband Lowell, and many animals (both domestic and wild) in Northwest Wyoming near Devils Tower National Monument. Kim is currently the co-chair for the National Board of Animal Acupressure and Massage. *****************************************************************************************************************
Course Curriculum
THE NITTY GRITTY of Techniques & Theory of Equine Bodywork
Available in days
days after you enroll
Frequently Asked Questions
When does the course start and finish?
The course starts now and never ends! It is a completely self-paced online course - you decide when you start and when you finish.
How long do I have access to the course?
How does lifetime access sound? After enrolling, you have unlimited access to this course for as long as you like - across any and all devices you own.
What if I am unhappy with the course?
We would never want you to be unhappy! If you are unsatisfied with your purchase, contact us in the first 30 days and we will give you a full refund.
Can I finish this module and then decide to continue with more courses in this school?
YES - we can upgrade you to the Transcendent Horse 5-Module Series for equine professionals and horse lovers OR to the Course for Certified Practitioner. You will receive the 15% package discount for the remaining courses, but not for the UnBound Horse Module #1, that you have already paid for.
Does my state charge sales tax for online courses?
Some states charge sales tax for online course payments (each state charges their own %). Note that various countries also charge a VAT tax. Sales Tax will be charged on payments for the following states (updated 11/10/2022): Alabama Arkansas Arizona Connecticut District of Columbia (DC) Hawaii Iowa Kentucky Louisiana Maine Maryland Minnesota Mississippi Nebraska New Jersey New Mexico North Carolina Ohio Pennsylvania Rhode Island South Carolina South Dakota Tennessee Texas Utah Vermont Washington State West Virginia Wisconsin
This course is a great stand alone introduction course. If you want a good basic scope of bodywork principals and feel along with some basic anatomy and physiology to help your horses yet are not sure if you are ready to commit to more - This might be the perfect choice for you!