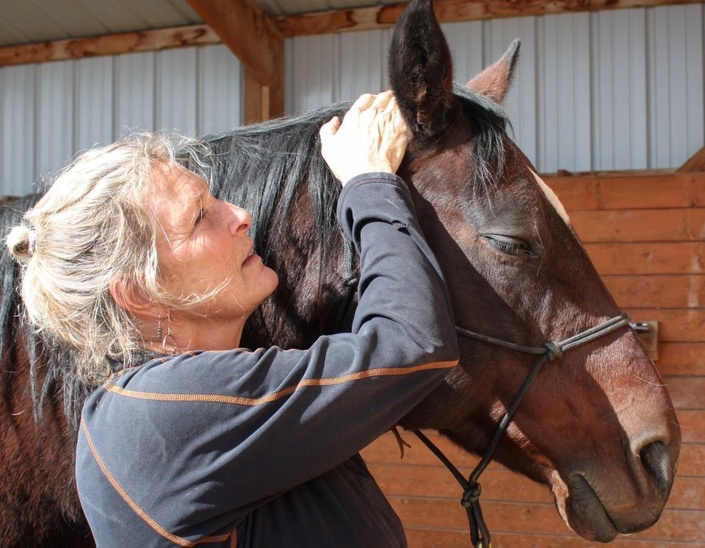 SIX DAY LIVE INTENSIVE - Deposit or Full Enrollment
Six days of INTENSE equine bodywork and life changing experiences!
SIX DAY LIVE INTENSIVE and PRACTICUM
for the Certified Practitioner Program
To complement the distance learning portion of the Certified Practitioner Program, students will attend a 6 DAY LIVE INTENSIVE.
Prerequisite: Certified Practitioner Online Portion of the Program
*Students must complete up through Module #3 before attending the SIX DAY LIVE INTENSIVE.
This will include six days immersed in hands-on bodywork with multiple horses, practice protocol, and review. The Six Days will include practicum (hands on) examination to text your knowledge of equine anatomy and bodywork technique.

The total fee for the Intensive is $1200. This does not include room, board or travel expenses.
(The price for all intensives will increase to $1500 July 1st, 2023)
"Definitely Intense! But in a good way. I so loved getting to stay in that space and really submerging into this work without outside distractions for a whole week. I honestly think back to the energy of that week quite often and try to tap into it when I am out working on horses." Chelse, Tx
*The Intensives have a maximum student limit, so once you know the date you would like to attend, you can pay a 20% non-refundable deposit to hold your spot and pay the balance in full 30 days prior to the event.
REFUND POLICY: Deposits are non-refundable but can be transferred to another date if available. LIVE EVENT full payments: If cancellation is made 14 days prior to event - full refund, 7 days prior to event - 50% refund (with 50% credit toward another date) and cancellation less than 7 days will receive credit toward another live event.
PLEASE CONTACT KIM IF YOU HAVE QUESTIONS OR CONCERNS: [email protected]
*After the intensive, students will return home to complete their internship which consists of full bodywork sessions on 5 different horses, and turning in the assessment / session sheets for review. Students will continue all unfinished online work and take the final written exam online. Access to private online coaching, practitioner groups, and friendships will continue after the intensive!!

INTENSIVES FOR 2023
(Full Schedule to be announced in October, 2022 - we are currently scouting out the following locations)
OMAHA, NEBRASKA LIVE INTENSIVE
OCTOBER 3rd - 8th, 2022 ~ rescheduled
We may be offering some dates during or around the World Cup Tour early April 2023

OCALA, FLORIDA LIVE INTENSIVE
FEBRUARY 20th - 25th, 2023
(full - waiting list only)

West FORT WORTH, TEXAS area LIVE INTENSIVE
POTENTIAL EARLY SPRING - LET US KNOW IF INTERESTED!

SAN LUIS OBISPO, CALIFORNIA LIVE INTENSIVE
LATE SPRING - DATE TBA SOON

GILLETTE, WYOMING LIVE INTENSIVE
SUMMER - DATE TBA SOON

DEVILS TOWER, WYOMING LIVE INTENSIVE
SUMMER / FALL - DATE TBA SOON

SIMI VALLEY, CALIFORNIA -or LEXINGTON, KENTUCKY LIVE INTENSIVE
POTENTIALLY FALL - LET US KNOW IF INTERESTED (IF YOU ALREADY HAVEN'T)
EACH INTENSIVE INCLUDES:
2-3 FIELD TRIPS TO WORKING BARNS WITHIN A 150 MILE RADIUS
WELCOME DINNER ON THE FIRST NIGHT BEFORE THE INTENSIVE BEGINS
LUNCHES AND SNACKS EVERY DAY OF THE INTENSIVE
CELEBRATION DINNER ON THE LAST EVENING OF THE INTENSIVE
***EMAIL FOR INFORMATION & LINK TO BOOK YOUR SIX DAY LIVE INTENSIVE***
Your Instructor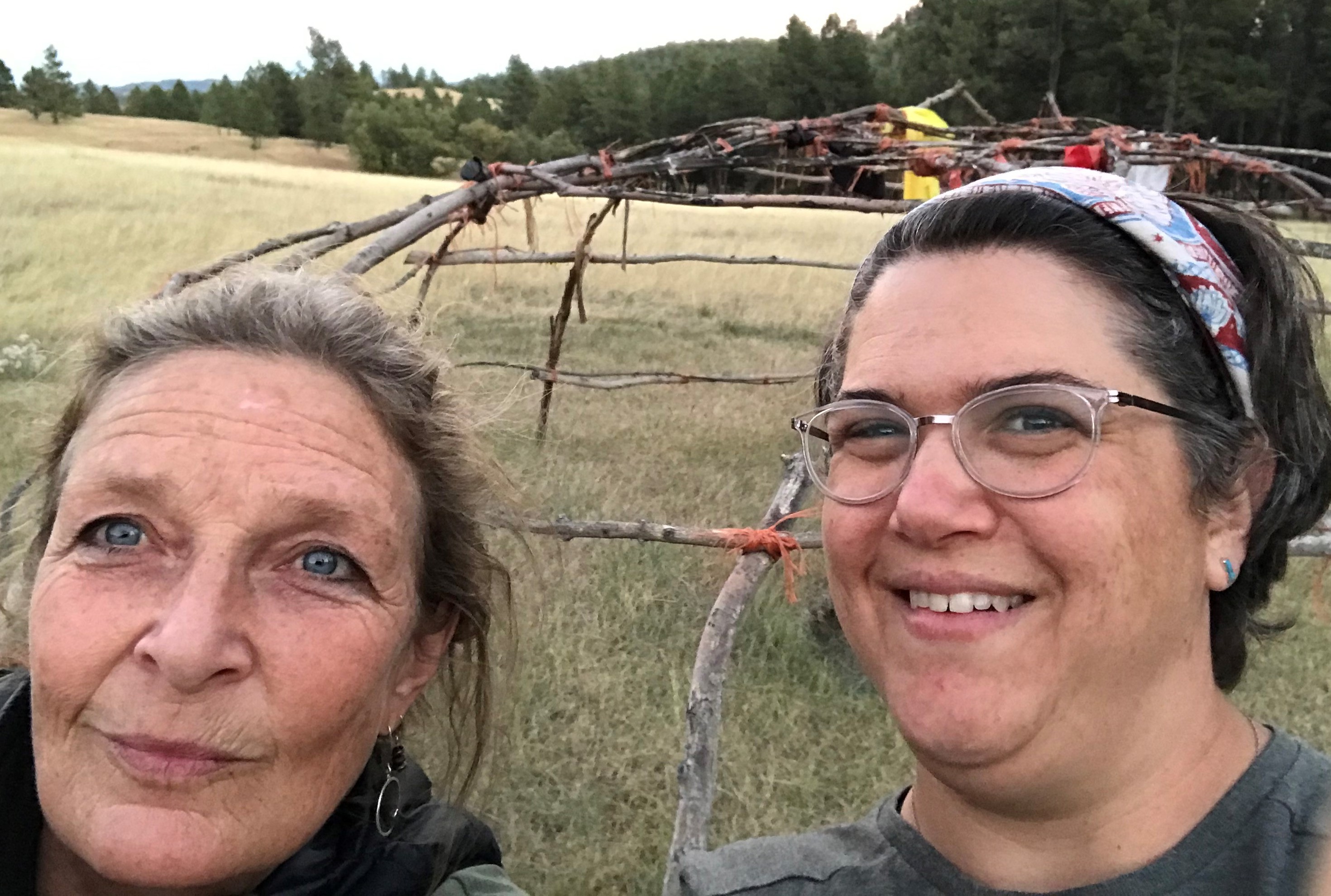 KIM KIZZIER SHERRODD, LMT, NBCAAM Certified Equine Massage Therapist - I read once that if you want to write a book, you should write the book you want to read. Taking this advice, I have spent the past ten years creating the course(s) I would want to take while keeping within rigorous standards. All this information and training was not available in any one program when I first imagined such a gratifying career and there were few coaches to guide me.
When I am performing bodywork on horses, there is SO much more going on with them than I could possibly put into categories, theories, or techniques. Although I always feel an awesome surge of validation when a horse awards me with what we call a "release" (yawning, stretching, licking and chewing), I somehow know that isn't the full story. When I am deeply tuned in to the energy, I almost sense the horse will offer the "release" just to help me through the energetic moment; as if to encourage me along. So, I went deeper, learning from every avenue I could – especially the horse. In developing this program, my goal is to help students learn how to "feel", gain empathy, and mostly to believe in themselves. I want to bring out that deep childlike depth and conviction which, to me feels like the same space that horses hold (and they are just waiting for us to catch up). This space has no rules or validation because it is nothing more than the present moment being shared between two souls. This is where magic happens.
The scientific approach to bodywork often felt cold and emotionally void to me; while the excited, "look she's yawning" as the end answer to what is going on felt very shallow. I wanted to offer a deeply rich and intuitive experience while still teaching the scientific basics of anatomy, physiology, kinesiology and pathology.
For a long time, I was afraid people would take what I have to offer as too "Woo-Woo". Fortunately, my faith and an incredible business coach prevailed and The School of Applied Integrative Therapy ~ Equine essentially birthed itself. This program is not only nationally and Internationally accredited, but weaves itself around stories from my own truly incredible journey with learning, growing, and intimately experiencing bodywork, natural and ancient healing practices, horses, and spiritual and personal development. Students not only gain knowledge, but also inner growth, depth of connection, and hopefully, a renewed belief in themselves and the world of equine. I would love to share this knowledge and deep experience with anyone wishing for such a valued and rewarding career or addition to horsemanship.
Kim is a certified and licensed human massage therapist, as well as animal massage therapist and bodyworker. When not teaching, she maintains her bodywork practice for animals and their people. Kim makes her home with her husband Lowell, and many animals (both domestic and wild) in Northwest Wyoming near Devils Tower National Monument. Kim is a board member for the National Board of Animal Acupressure and Massage. *****************************************************************************************************************
CHRISTINE WALKER, LMT, NBCAAM Certified Equine Massage Therapist - Born and raised in Northern Pennsylvania, Christine grew up riding hunter/jumpers and retraining thoroughbreds to be hunters as a working student. She obtained a B.A. in Equine Business from Midway University in 2000 and a Medical Massage Therapist Certification in 2007 from Blue Heron Academy. She was on both the Open hunt seat and stock seat IHSA riding teams and served as the team captain three consecutive years at Midway and also served as a Student barn manager three years.
Christine has worked, ridden, and educated in many facets of the equine industry, including thoroughbred racing, hunter/jumpers, dressage, reining, and eventing. Her primary focus of her degree in college was working within the nonprofit industry and a strong interest in rules and regulations of competitive equine sports. She has worked in the offices of the United States Pony Clubs, United States Equestrian Federation, International Hunter Futurity, and the United States Dressage Federation.
Her massage career began when a career opportunity for her husband moved them to Indiana. Massage as a profession has had Christine working alongside chiropractors, other massage therapists and spa owners. She has been an employee and has owned her own practice. In 2019-2020, she helped establish the Massage Academy of Therapeutic Indulgence in South Bend, IN. She joined the School of Applied Integrative Therapy in the spring of 2020 and now has a thriving equine and human massage practice, specializing in the equine/human athlete connection.

Frequently Asked Questions
What happens during the 6 DAY LIVE INTENSIVE
The Intensives are INTENSE! We are fully immersed in horses, bodywork, and self development. Each intensive includes 3-4 field trips to working barns and ranches to experience multiple types of facilities and horses. *Students will review palpation of anatomical features such as skeletal anatomy, muscle anatomy and location of organs. *Students will practice the massage and bodywork techniques individually and begin to put together a full bodywork session.
When do I schedule my 6 DAY LIVE INTENSIVE?
If you are able to keep up with the On-Line course schedule with moderation, you can expect to finish in approximately 6-12 months. You can start looking at dates to attend a 6 DAY LIVE INTENSIVE after you have completed at least Module #3. Each Intensive is limited to 6 students at this time, so if you want to secure your place for a particular date, you can pay a 20% deposit to hold it. DEPOSITS are non-refundable but they can be transferred to another date if an opening is available.
What if I cannot find a 6 DAY LIVE INTENSIVE that works into my schedule?
If there is not a scheduled 6 DAY LIVE INTENSIVE that works into your schedule, please contact Kim to discuss options. We may be looking at other dates and locations which haven't been confirmed, or we might be able to arrange a new date based on your needs.
[email protected]
This course is closed for enrollment.